Oregon Total Loss, Getting Your Real Market Value.
We don't just write a Total Loss Fair Market Value appraisal like some companies. Ken Nix will also negotiate with your insurance company's appraiser under your policy's appraisal clause to get a fair value for your totaled vehicle. This is included in the price of your appraisal, you won't be upsold later for additional negotiation services like some companies. Ken has over 38 years of negotiation experience. Ken is a Licensed Auto Appraiser in Oregon (see his ODOT authorization to appraise cars on this page).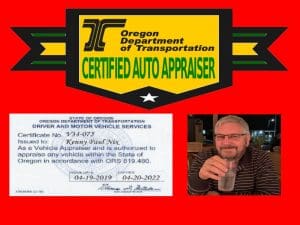 Has your vehicle been total and deemed a total loss? Within your insurance policy, there is a provision called the appraisal clause if you have full coverage insurance. This clause is your safety net to insure your insurance company is fair when providing a value to you when your vehicle is totaled. 
Not only does this appraisal clause protect you, but if your appraiser is able to increase the last offer just 1 cent more during the negotiation, your insurance company must reimburse you for the appraisal costs.
There are two different types of Total Loss situations, Financial and Structural. Your vehicle can be declared a total loss due to either of these Criteria.
Financial Total Loss.
Financial Total Loss is when the cost to repair the vehicle is close enough to the actual cash value of the vehicle and it makes more sense for the insurance company to total it. This percentage can change depending on the insurance company and normally falls to either 70% or 80% or more. So if your vehicle has a Market Value of $20,000. and it needs $16,000. in repairs, chances are they will total the vehicle. Now here's where it gets interesting. Let's say they estimate the repairs at $12,000., that's $4000. less than what is needed to declare your vehicle Totaled. But, many insurance companies will take in consideration if you are declaring diminished value into that total repair estimate. If you have $4000. in inherent Diminished Value, and we can show this before they start work on your vehicle, you may be able to have them declare the vehicle totaled.
Structural Total Loss.
With Structural Total Loss, the vehicle is totaled due to the structural integrity of the vehicle being compromised. In most instances, it is not being safe to drive. Structural Total Loss can be declared after a vehicle has been repaired. Insurance companies normally try to fight this type of total loss. Especially if the vehicle has a uni-body frame.  They will argue that the rails can be replaced with new rails and that the car will be just like new. No collision technician has the ability to restore a vehicle safety system to absolute new condition if there has been a severe collision to the vehicle. Safety systems are devised to work together and as one. If a vehicle has been hit in the left front, and any part of the vehicle not completely replaced, that system is probably not going to respond as it should. If the metal on the left side was repositioned or repaired, and not replaced, the metal may not crumple at the velocity it should.
OREGON POLICYHOLDERS: If your claim is with your insurer, you may have the right to an appraisal if your policy includes an appraisal provision. Your insurer must reimburse your reasonable
appraisal costs if the final appraised value is greater than the insurer's last offer. This provision applies to all new policyholders on or after January 1, 2010 and to current
policyholders upon the first renewal of their policy that occurs on or after January 1, 2010. Ask Ken Nix, your claims adjuster or the Insurance Division for more information.
See out sister site: Leverage Auto Appraisals. Same appraiser, clearer intent on what we are when it comes to Total Loss Claims. Yes, we're still in Oregon and focus on having 99 percent of our business with local Oregonians with a few Southern Washington clients.
We know Oregon total loss laws, the Oregon Used car market, and the market areas. Whether it is in Portland, Coos Bay, Bend, Medford, Eugene, Hillsboro, Gresham, Beaverton, or even Langlois Paisley.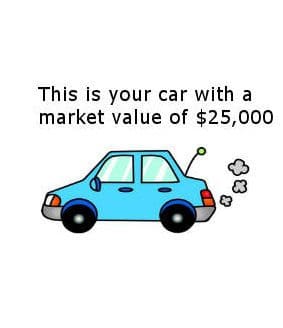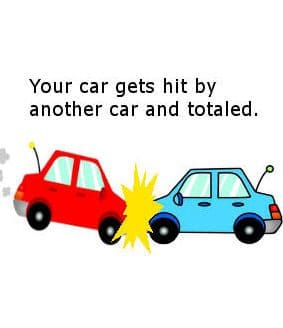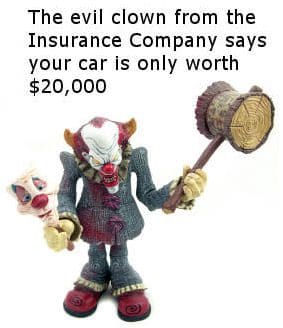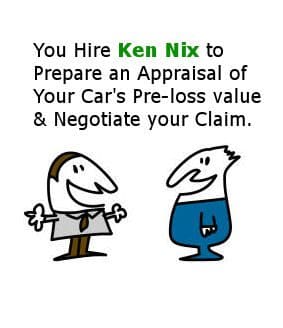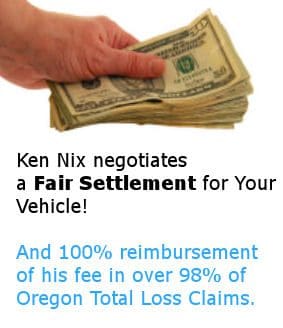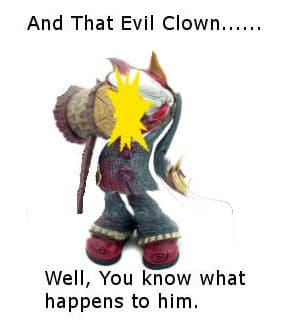 Appraisal for a Total Loss Totaled Car Insurance Claim
Has your vehicle been declared a total loss by your insurance company? You deserve full retail market value for your car, including any applicable Tax, Title and Licensing Fees. In Oregon and Washington you have the right to dispute your insurance company's offer if you feel it is too low. Sometimes their offer is literally pennies on the dollar compared to what it may cost to replace your car.
Under your full coverage policy has an appraisal clause stipulation in it that allows you to hire an independent auto appraiser to dispute your insurance company's lowball valuation. Your insurance company will then
If you've been in a car accident or had some other type of loss such as flood, theft, or acts of God from a storm, the insurance company may declare your vehicle to be totaled. Normally that means that it would either cost close to, or even more than than the vehicle's retail market value to repair. The normal formula in Oregon to determine if a vehicle is totaled is:
80% or more of the Retail Value
The way the insurance company determines whether your vehicle is repairable or a total loss is normally by using a formula, Salvage Value + The Cost to Repair > Actual Cash Value, which is the Pre-Loss Fair Retail Market Value of the vehicle. This is called the total loss threshold and it varies from state to state. On the norm, most states set it at 75% -80% of the Damage to Value, but there are states that have lower and higher thresholds. In Oregon, the threshold is normally 80%, but some companies will total at a lower percentage. 
When your vehicle is declared a total loss, the insurance company must supply you with an fair market valuation or appraisal report. The report must include certain criteria such as the correct equipment, condition of the vehicle, comparables (vehicles similar to your vehicle in equipment, condition and miles in your used car market). Insurance companies will normally use a national 3rd party company such as Audatex, JD Power Mitchell, or CCC, to provide them with a valuation on your vehicle, but there are times where a local appraiser is used. Normally we find that many of the valuations that are used by the insurance companies are up to 40% less than they should be.
You have the right to dispute the insurance company's assessment
The average increase in value we normally obtain is 5-15%. 5% of $20,000 is $1,000.00. But, since Covid, our increases are off the chart. Here's just a few of our recent settlements in  2022.
 Here's some recent settlements in the past couple of weeks:
2000 Dodge Ram 2500 4 Door 5.9L 6 Cyl Diesel Turbocharged 4WD – Insurance company's offer: $8,623.87 – Settlement: $29,250.00 – Increase: $20,626.00
2003 F350 Crew 7.3 Diesel – Insurance company's Offer: $14,000  – Settlement: $32,500.00 – Increase: $14,000.00
2015 Chevrolet Silverado  – Insurance company's Offer: $47,487.00 – Settlement: $56,067.00 – Increase: $8,580
2001 Ford F350 Crew 7.3 Diesel – Insurance company's Offer: $19,774.60 – Settlement: $33,000.00 – Increase: $13,225.40
2020 F350 Insurance company's offer: $58942.50 – Settlement: $71,755.73 – Increase: $12,813.23
2001 Volkswagen GTI State Farm's Offer: $4,705.00 – Settlement: $9375.00 – Increase – $4,670 
If you feel you're being offered an unfair settlement, your best course of action is to hire an independent auto appraiser to produce a valuation on your vehicle. You have the right to dispute the insurance company's assessment of your vehicle if you do not believe it is fair. The claimant (you) will normally have to prove that your vehicle is worth more than you're being offered, and a vehicle appraisal is the best evidence to support your claim. The average increase in value we normally obtain is 10%, i.e. You are offered $20, 000 for your vehicle, the average increase would be $2,000, or a settlement of $22,000.00. Sometimes it's more, sometimes it is less.
If your claim is against your insurance company, your insurance policy may contain an "appraisal clause". This is a method to dispute their claim that is normally written into most insurance policies. In many cases, if you receive an increase in their settlement offer, the insurance company will also reimburse you for the cost of your appraisal.
In 2008 a RICO complaint claiming: "CCC Valuescope (formerly known as CCC Information Services Group Inc – CCCG) can by no means be deemed a fair and market value of automobiles as CCC Valuescope works exclusively for insurers and therefore has an economic interest to supply valuations that are intentionally below the actual fair market value of what insured vehicles are truly worth." The complaint was filed by Consumer Advocate Paul F. Davis and goes on to say, "It is known fact throughout the insurance industry that CCC gathers its values from what car dealers would sell a vehicle for at basement wholesale prices, not the true "retail value of an auto of like kind and quality prior to the accident" as mandated by FL insurance regulations".
Lowball offers are more common than you may think. In the case of Buratovich v. Farmers Insurance, documents obtained during discovery, reflected that Farmers Insurance had selected CCC solely due to it's evaluations having the lowest payout in regards to a Total Loss Claim. CCC has also recently come under fire in Georgia where consumer advocates claim they have substantially lower valuations than other companies.
Total Loss Appraisal Stipulations:
This valuation is not guaranteed, and is not subject to any money back guarantee we may be offering for other services.

There is no guarantee of the outcome of your claim. (this is an industry norm, as there cannot be any monetary connection to the outcome of the valuation)
A Copy of the insurer's valuation of the vehicle. This will normally be an appraisal or report.
The condition stated in the insurer's report will not be disputed.
The Appraisal is based on Fair Retail Market Value.
We offer 3 services for Total Loss Claims.
1. Comparable Market Search. We'll do a market search on comparable vehicles to determine if the insurance company's offer is reasonable and advise you on your course of action.
2. Total Loss Appraisal without a physical inspection, not disputing the condition of the vehicle.
3. Total Loss Appraisal Disputing condition whereas a physical inspection of the vehicle is needed.
For more information about Total Loss, Please fill out the form on your right to request request a Total Loss Claim review or call Ken Nix at (503)420-3333 and he will be happy to discuss it with you.