Why Choose Diminished Value of Oregon and Ken Nix as your Auto appraiser?
Reason #1 to choose my appraisal over our competitors, is that I put quality over quantity, in preparing Diminished Value appraisals. I may take longer, but your chances just went up that you'll receive a higher recovery award and in less time. I don't just produce a valuation based on my opinion alone. My appraisals use mathematics to prove the loss and answer questions and provide supporting evidence as to why your vehicle has lost value. Most everyone has heard the old saying that the definition of insanity is doing the same thing over and over again, expecting a different result. Most appraisers keep using the same appraisal format for years. Times have changed and it isn't as easy to recover diminished value as it was a couple of years ago. Insurance companies have become more aggressive and have started to fight back. We have many recent clients (since the first of the year) who have recovered up to 100% of their claim with my appraisals. The majority of our clients recover around 70% of the appraised value.
Reason #2
, is my proprietary methodology. It's like the wild west when it comes to auto appraisals. In Oregon and most states, if you hire someone to produce an appraisal for real estate,
by law
they have to follow
USPAP standards
. But there are no laws in Oregon, Washington, California, Alaska, or Idaho that state you must use USPAP standards on auto appraisals. Many appraisers state they're USPAP compliant, but usually that only means they use some type of comparables when determining either the pre-loss or post repaired value. Most don't actually identify the
correct market
according to the
Uniform Standards of Professional Appraisal Practice
(USPAP).
USPAP states that the largest market should be used
, based on the normal seller and buyer. Over 99% of diminished value auto appraisers use Retail Fair Market Value in determining Diminished Value. Then they try to use data from auto dealers to prove the loss. The problem with this strategy is that the majority of privately owned vehicles that are less than 7 years old and have less than 75,000 miles are sold to an auto dealer as a trade-in, not as a retail sale. (
technically there is no trade, there are two transactions. 1. You selling your vehicle to the dealer, and 2. the dealer selling you a vehicle
) A simple example is to look up vehicles similar to yours in Cars.com, then filter by seller type, and you'll normally find that less than 2% of those vehicles are being sold by private sellers, with 98% being sold by dealers. By using this approach, this also allows us to use data collected from auto dealers, which makes proving diminished value much easier.
Reason #3
is that there are very few online diminished value auto appraisers who are licensed in Oregon. Using an appraiser who isn't licensed in Oregon may jeopardize your claim. Even if the appraiser is licensed, it is usually in North Carolina, not Oregon. Oregon and North Carolina are two of the only states in the U.S. to issue appraiser licenses. Most issue auto damage appraiser license only (for estimating the cost of repairs to a vehicle, not the vehicle's overall value). Then there are the "certified" appraisers who claim to be certified by some company. Most of these Certifying entities are made up and have no legal authority at all. Their appraisals normally provide only an opinion by someone who isn't licensed at all, which probably isn't much better than getting your Uncle Bill to write the appraisal for you.
Reason #4 is the free Auto Body repair inspection. If you have a physical inspection, Ken will not only inspect your vehicle for condition, to include in the appraisal, but he also offers a free evaluation of your vehicle's repairs. He's found many bad repairs that may have gone unnoticed for years, until it's too late.
This is a repaired client's vehicle where Ken found that four important bolts were missing from the vehicle, several of which were hinge bolts that hold the doors on.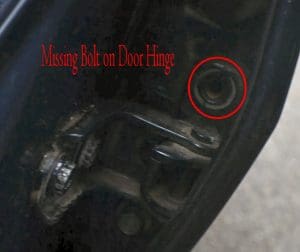 Request a Free
Diminished Value Estimate
Here's just a few arguments made by insurance companies, that we address within the appraisal:
If you sell the vehicle yourself, you may choose to not disclose the damage, if you do not, then there is no loss of value.
Most private buyers won't know how to look for signs of prior damage, so you could sell them the car anyway.
If you sell your car for full market value, how can you have diminished value?
We use the formula 17c, which is court approved. (the judge who suggested State Farm's formula 17c was a good methodology has redacted his comment as the Formula 17c is a fully calculated value using no comparables. We explain why a calculated value is not a valid methodology in case your receive a report from USAA, or VVS)
Your vehicle has been returned to pre-loss condition according to industry standards, so there is no loss of value. (Actually these "industry standards" are auto body repair standards that are not government regulated, where automotive manufacture standards are.
Need a few more reasons? Here you go….
Licensed Auto Appraiser by the State of Oregon Ken Nix, has been authorized by the state of Oregon to determine a vehicle's Diminished Value in Oregon since 2010. License # V34-075

Uses real market comparables to determine diminished value. We don't just use prices, we use actual sold vehicle data in our Diminished Value Appraisals.

Localized Supporting Documentation includes demand letters specific to your location and laws (Oregon and Washington). Losses in Oregon that are below $10,000, include Oregon specific documentation which references  ORS. 20.080, which is an Oregon law that allows that if the insurance company's "best offer" isn't high enough, you may retain an attorney and if the attorney prevails by just one cent over their "best offer", the insurance company has to also pay reasonable attorney fees. This is normally extra incentive for insurance companies to settle in the state of Oregon.
One on one communication with a Licensed Oregon Auto Appraiser, not a staff member. (Ken does not give legal advice, but can provide legal information, good advice pertaining to the repairs to your vehicle, and negotiation coaching)
Our Moneyback Guarantee*

Final Bill audit referencing damage such as unibody frame damage, structural damage, etc.
Book values with historic and auction data, (not free generic book data)
Vehicle History Research including prior damage search, title issues, auction history, and accident reports.
Appraisals are color coded and all pertinent information is summarized . (the majority of our appraisals are between 35 and 50 pages long, not 2 or 3)
Published Office Address. We're easy to find, not hiding behind an email address. (4264 SW Plumeria Way, Beaverton, OR. 97078)

Auto Appraiser with over 27 years of automotive experience

, who is an internationally known automotive expert. Founder of 3 automotive clubs with over 60,000 members. Ken's experience is in the valuation of vehicles, not the cost repairs which most diminished value auto appraisers online have. Also an admin for the largest automotive forum network in the world.

Works only for Consumers.

 Very few

Diminished Value "Experts"

are actually consumer oriented. Most obtain the majority of their work from Insurance companies and may have motive to develop an extremely conservative methodology that will normally reflect 10-20% of what your actual loss value is. An example of this is Formula 17c where the max loss is 10% of the vehicle's retail value.
Is not engaged in any other automotive endeavors, such as car sales, auto part sales, auto body repair, or wholesale buying or selling. If your appraiser is engaged in any other automotive business, your appraisal could be considered biased and voided in court.
Negotiation coaching by a Master Negotiator with over 30 years experience in the art of negotiation. (in some instances we may negotiate with the opposing appraiser or insurance representative).

Automotive Expert Witness

. Most online appraisers have never testified as an expert witness. In the chance your claim goes to court, you'll need the appraiser who prepared your appraisal to be available to testify. Please note: Expert witness testimony is not included in the cost of an appraisal.
We're local, right here in Beaverton, Oregon, (our inspection station is on Canyon Road) Licensed by the state of Oregon, the majority of online diminished value auto appraisers are not authorized by the state of Oregon to appraise vehicles.
One person, Ken Nix, produces the appraisal start to finish. If there is an inspection, Ken does it. Ken may have an assistant to help with the research, but he then he verifies all critical data and writes the narrative himself. If you do have to go to court, only one person is needed.
Here's Ken's Oregon Auto Appraiser's License and Certification.