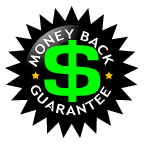 We believe in satisfying our clients, and offer a 100% money back guarantee on all premium Diminished Value and Total Loss Appraisals*. *This only applies to Appraisals with physical inspections by our appraiser.

We'll refund your money  in these circumstances:
If for any reason, your insurance company refuses to accept our appraisal as a valid Oregon Vehicle Appraisal, I will refund 100% of your money (you must submit documentation from them in writing.)
If after submitting the appraisal and a demand letter (sample demand letter included), following our instructions, and pursuing reasonable collection attempts,  you are offered a settlement less than the cost of the Diminished Value Appraisal or the cost of the Total Loss Appraisal plus the initial Total Loss offer (you must envoke your appraisal rights with the insurance company), we will refund 100% of your money*.
Situations where we will not refund your money if you do not receive at least the cost of the appraisal:
You do not invoke your appraisal rights on a Total Loss.
You have previous undisclosed damage at the time you request of the assignment. (Each collision must have a separate report and each additional report will be extra)
You have not followed reasonable pursuit of the claim, this includes filing a civil lawsuit for diminished value and arriving at a verdict.
Your vehicle has previous undisclosed frame damage. In this case, all guarantees are null and void.
You do not provide us with needed documentation to complete the appraisal.
If we determine that we can not complete the appraisal due to prior damage, prior losses or claims, incomplete documentation, etc. work will be billed at $75 per hour, and any remaining time value will be refunded. Example: We spend 2 hours working on producing your appraisal, You paid $275 for the appraisal. You would be billed for $150.00, and would receive $125 back as a refund. Money back Guarantee is only valid if appraisal is completed and filed against the appropriate parties.
*The money back guarantee only applies to Premium Appraisals with physical inspections by our appraiser.