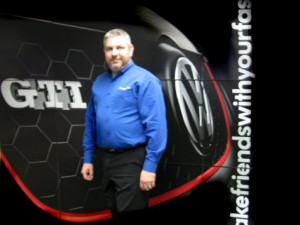 Kenny Nix aka Ken Nix has over 20 years automotive appraisal experience. Ken is the founder and previous owner of VolkswagenOwnersClub.com, MyFastGTI.com, JettaJunkie.com,with a combined membership of over 60,000 automotive enthusiasts.  Ken has received manufacture product  training directly from Ford, Chevrolet, Chrysler, Dodge, GMC, Pontiac, Honda, Plymouth, Mazda, Geo, Oldsmobile, Toyota,  Mercury, Lincoln, Volvo and Volkswagen.
Since 2004 Ken has had a National reputation for his vast automotive knowledge. In 2005, over 40,000 people read his Passat "Secrets" and he gained global fame as an expert on the Volkswagen Passat. In 2006 Ken founded MyFastGTI.com and was recognized by Volkswagen in Business Week.  In 2007 Ken was employed by Diversiform Inc., where he worked directly with AAA repair facilities throughout the U.S. to increase their Customer Service Scores. Ken consulted with many Automobile Dealerships and Dealer Groups across the nation, including but not limited to Champion Toyota, Red McCombs, Lanphere Enterprises, Skyline Ford, Tonkin, Jim Norton Toyota and Crestmont Toyota and Volkswagen,  developing and integrating Marketing and Customer Satisfaction tools for their Service facilities. In 2008 Diversiform Inc. was aquired by Reynolds and Reynolds Inc., Ken was retain  by Reynolds and Reynolds until they closed their offices in Beaverton Oregon, late 2009.  After months of study, In April of 2010, Ken became authorized by the State of Oregon, to appraise vehicles within the State of Oregon for Diminished Value and Total Loss in accordance with ORS 819.230.
Some Tips From Ken:
Make sure your appraiser is authorized to appraise vehicles in the State of Oregon, as an appraisal by an unlicensed appraiser probably won't be taken seriously by the Insurance Company. They're not stupid, and if you don't use an ODOT certified appraiser, they will know the appraisal will not stand up in court in the State of Oregon.
Beware Appraisers who charge by the hour, (I have done many appraisals where I've easily devoted 20+ hours) They should at least have a cap on how much it will cost otherwise, they can just keep billing for job security.
Beware Appraisers who work both sides of the street. Ask your appraiser if he's ever done an appraisal for any Insurance Company, or at least if they have done any appraisals for the Insurance Company you're negotiating with.